EC-Council Certified Network Defense training arms you with the ammo required to take on the challenges of a lucrative cyber security career. Network defense is a broader market globally as compared to ethical hacking and penetration testing. It lays the foundation on which skilled individuals can pursue higher certifications such as ECHA and CEH Certification.
This network security course is beneficial for network professionals, security professionals, security auditors, site administrators, and any individual who is concerned with securing enterprise network infrastructures.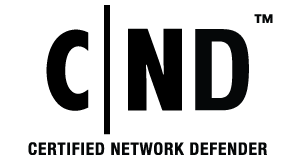 How will this Course help You
Upon Completion of this Course, you will accomplish following:-
Learn fundamentals of networking and defense techniques
Understand network security threats and vulnerabilities
Implement Network Security Controls and Protocols
Design and implement Network Security Policies
Define Physical Security Controls and authentication techniques
Configure Host Security and file system encryption
Firewall implementation and management
Configure and manage IDPS (Intrusion Detection and Prevention Systems)
Ensure and manage VPN security
Secure wireless networks
Monitor and analyze network traffic
Understand network risks and vulnerabilities
Network Incident Response and Management
Target Audience
Intermediate
Location
Addis Ababa, Ethiopia
Register to our waiting list and get notified when the course starts.