Course Description
The Certified SOC Analyst (CSA) program is the first step to joining a security operations center (SOC). It is engineered for current and aspiring Tier I and Tier II SOC analysts to achieve proficiency in performing entry-level and intermediate-level operations.
CSA is a training and credentialing program that helps the candidate acquire trending and in-demand technical skills through instruction by some of the most experienced trainers in the industry. The program focuses on creating new career opportunities through extensive, meticulous knowledge with enhanced level capabilities for dynamically contributing to a SOC team. Being an intense 3-day program, it thoroughly covers the fundamentals of SOC operations, before relaying the knowledge of log management and correlation, SIEM deployment, advanced incident detection, and incident response. Additionally, the candidate will learn to manage various SOC processes and collaborate with CSIRT at the time of need.
As the security landscape is expanding, a SOC team offers high quality IT-security services to actively detect potential cyber threats/attacks and quickly respond to security incidents. Organizations need skilled SOC Analysts who can serve as the front-line defenders, warning other professionals of emerging and present cyber threats.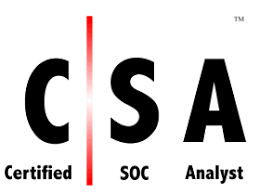 How will this Course help You
The purpose of the CSA credential is to:
The lab-intensive CSA program emphasizes the holistic approach to deliver elementary as well as advanced knowledge of how to identify and validate intrusion attempts. Through this, the candidate will learn to use SIEM solutions and predictive capabilities using threat intelligence. The program also introduces the practical aspect of SIEM using advanced and the most frequently used tools. The candidate will learn to perform enhanced threat detection using the predictive capabilities of Threat Intelligence.
Location
Addis Ababa, Ethiopia
Register to our waiting list and get notified when the course starts.